Maternity and Infant Care Scheme
Maternity & Infant Care Scheme for Registered patients only
The Maternity and Infant Care Scheme provides an agreed programme of care to all expectant mothers who live in Ireland. The service is provided by a family doctor (GP) of your choice and a hospital obstetrician. You are entitled to this service even if you do not have a medical card. Virtually all GPs have agreements with the HSE to provide these services; they do not have to be part of the medical card scheme. The Scheme also provides for two post-natal visits to the general practitioner.
The GP provides an initial examination, if possible before 12 weeks, and a further 6 examinations during the pregnancy, which are alternated with visits to the maternity hospital. The schedule of visits may be changed by your general practitioner and/or hospital obstetrician depending on your individual situation.
Where an expectant mother suffers from a significant illness, e.g. diabetes or hypertension, up to 5 additional visits to the GP may be provided. Care in respect of illnesses which are co-incidental with, but not related to your pregnancy does not form part of the Scheme.
After the birth, the GP will examine the baby at 2 weeks and both mother and baby at 6 weeks.
The GP who attends the mother also provides care for the new-born baby. This entails two developmental exams during the first 6 weeks following the birth, that are free of charge. The baby's entitlement to free GP services depends on whether the parents have a medical card. This means that visits to the GP for any conditions related to the baby's health during this six week period or afterwards are not covered by the scheme.
The public health nurse visits the mother and baby at home during the first 6 weeks.
If the baby is born in a hospital, it is usual to carry out screening for metabolic disorders (the Guthrie or heel prick test). If the baby is born at home, the test may be carried out by the GP or in the out-patients department of a hospital. This test requires parental consent.
After you and your baby leave hospital you will be visited in your home by the public health nurse. The PHN will give you advice and support in the care of both yourself and your baby.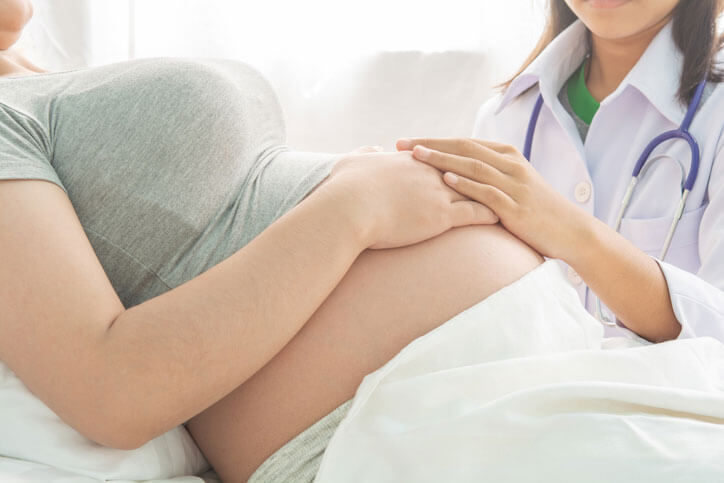 Visit to the General Practitioner
For Your Baby:
The scheme provides for two designated visits to the general practitioner for your baby
(i) within two weeks of birth
The visit helps re-establish the link between you and the general practitioner. It enables the general practitioner to check on your health status to review your hospital care experience and to discuss any difficulties you may have in managing your baby.
(ii) at six weeks of age
This visit is to review general health, to conduct another developmental examination, to review feeding practice and the overall management of the baby and to finalise immunisation plans.
(please see Children's Health for immunisation table).
For You:
The scheme also provides for the GP to carry out a postnatal examination of the mother six weeks after the birth, although by arrangement it may be carried out by the hospital.
Your Babys Health
Breast milk is an ideal food for infants. It is easily digested and it contains all the nutrients babies need for growth and development. It contains antibodies which protect your baby against infection.
While you are still pregnant you should consider breastfeeding your baby to give him/her the best start in life. Your GP, public health nurse or maternity hospital will be happy to give you advice and support.
Immunisation against a certain number of infectious diseases is provided free of charge. Vaccines are administered at varying ages by the general practitioner.
Remember
Breast feeding is best for your baby.
Not earlier than 72 hours and not later than 120 hours after birth your baby should be screened for metabolic disorders ( the Guthrie or heel prick test).
Always place your baby on his/her back when you put them to sleep.
Never smoke or allow anybody else to smoke in the presence of your baby.
When your baby is 2 weeks of age, you should visit your GP to discuss the babys health and to discuss immunisation plans for your baby.
The combined Obstetric Card
When your application for care under the scheme has been approved by your local health service executive area, you will be provided with the Combined Obstetric Card. You should bring this card with you on your visits to both the GP and the hospital.
Your Health During Your Pregnancy
It is important that you take full care of yourself during your pregnancy for both your own and your baby's sake by following your doctors advise and adhering to the following:
Do not smoke.
Take one folic acid tablet (400 mg) daily, ideally two months before conception and for the first twelve weeks of your pregnancy. Consult your pharmacist for details.
Do not take medication unless advised by your doctor.
Do not take alcohol as it can harm your baby.
Do not eat liver, pates unpasteurised soft cream cheeses, or unpasteurised dairy products. Ensure that raw fruit and vegetables are thoroughly washed before eating. Ensure that meat is cooked through until the juices run clear.
Eat a normal well-balanced diet and maintain good physical condition throughout your pregnancy.
Your doctor may prescribe iron tablets which you should take as prescribed.
During the last twelve weeks of your pregnancy you should attend ante-natal classes, ideally in the hospital where you plan to deliver your baby.
If you have any bleeding during your pregnancy, you should contact your GP.
Avoid coming into contact with cat faeces and avoid handling cat litter.
Pregnant ladies please make sure you are up to date with your flu and Whooping Cough vaccines 
For more information or to book an appointment, contact us today on (01) 873 59 59.
Other Services You Might be Interested In
Hear what our patients are saying...
"Handy place if you need a GP and you're in the city centre. I had a nasty burn and I was able to call in here and get seen on a work day evening. I rang at lunch time and made an appointment. Doctor was very nice and thorough. I could really trust her. Would definitely go here again."
Eoghan F.
"Been going there years and find the service there excellent. Doctors are thorough and professional. Would highly recommend."
Caitríona N.
"I have attended Jervis Medical Centre for over 15 yrs. I have found Dr. Haka and his team's approach to patient care to be courteous, quite knowledgeable, professional and reassuring. Getting an appointment to be seen isn't a hassle and are readily available. Follow up care and referral to relevant services are efficiently executed. I would definitely recommend attending this medical centre for your GP needs."
Renita L.
"I've been with Jervis Medical Centre since 2009. It is indeed a great clinic with a very accomodating and polite staff. Dr. Hakhamanesh Nikookam is exceptionally thorough and professional. He certainly makes everything easy for me. He's truly helpful. Highly recommended."
Ryan N.
"Great place, go and see for yourself! This is not a Spa or a Restaurant. You get in, get the support you need, get out. Doctors are patient, competent and always nice! Going there since 2007 (vaccines, GP services, etc...) - never a bad experience."
Claudine R.
"Highly recommended. I've been attending this medical centre for over ten years and would not attend anywhere else. Reception and Medical staff are friendly/approachable and extremely thorough. 5 stars well deserved!"
S. Flood
To make an appointment, contact us today on