Erectile Dysfunction (ED)
What is ED and how common is it?
Erectile Dysfunction (ED), also sometimes known as impotence, is the persistent or recurrent inability to achieve and/or maintain an erection sufficient for satisfactory sexual intercourse. This happens when not enough blood can get into, or stay in the penis long enough to allow an erection.
Many men live with ED for years without seeking medical advice, because of embarrassment or a belief that ED cannot be treated. However, in most cases, ED treatment is straightforward and effective. In addition, ED may be an early warning sign of other conditions. So it makes sense not to allow embarrassment to get in your way -if you are worried about ED, go to your doctor without delay to get it checked and treated.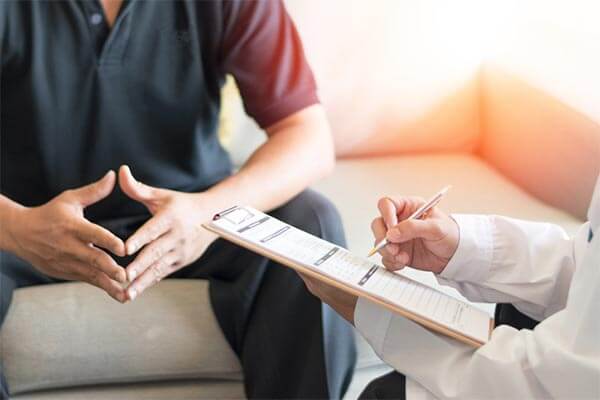 What causes ED?
In many cases, ED is caused by a combination of both physical and psychological factors. A proper medical assessment is important as ED could be caused by an underlying illness, medication side effects, or be related to psychological issues – see some common causes below:
Diabetes
Heart Disease
High blood pressure
Nerve conduction problems e.g. multiple sclerosis and Parkinson's disease
Following prostate surgery
Medication side effects:

Some medicines used to treat conditions such as high blood pressure or depression may have ED as a side effect.

Stress
Excess alcohol
Smoking
The earlier a health problem is attended to, generally the easier it is to treat. So if you are worried that you may have ED, go to your doctor without delay.
Welcome to the 2nd step towards dealing with ED, Get Checked.
Your doctor will ask you questions about your general health and how ED is affecting you physically and psychologically. Up to 80% of ED is caused by an underlying physical condition, so your doctor may want to carry out some checks, such as:
Your GP may want to review the medicines you are currently taking.
ED may be caused by the side effects of some medications so your doctor will want to ensure that your ED is not due to this.
Your GP may check your blood pressure.
High blood pressure is linked to heart disease and diabetes, both of which are known to be causes of ED.
Your GP may take a blood or urine test to check sugar levels.
If your sugar levels are raised, you may need additional tests to check for diabetes.
Your GP may take a blood test to check your cholesterol levels.
ED may be due to problems with your blood vessels (sometimes known as "hardening of the arteries"). Because raised cholesterol can make this problem worse, your doctor may check your blood cholesterol level and if it is too high advise you on how to bring it down.
Your GP may perform a blood test to check the testosterone levels in your body.
Low levels of this hormone could affect your sex drive and general health.
What can be done?
There is now a range of treatments available for Erectile Dysfunction, so there's no need to worry. Your doctor is the best person to talk to about Erectile Dysfunction.
For more information or to book an appointment, contact us today on (01) 873 59 59.
Other Services You Might be Interested In
Hear what our patients are saying...
"Handy place if you need a GP and you're in the city centre. I had a nasty burn and I was able to call in here and get seen on a work day evening. I rang at lunch time and made an appointment. Doctor was very nice and thorough. I could really trust her. Would definitely go here again."
Eoghan F.
"Been going there years and find the service there excellent. Doctors are thorough and professional. Would highly recommend."
Caitríona N.
"I have attended Jervis Medical Centre for over 15 yrs. I have found Dr. Haka and his team's approach to patient care to be courteous, quite knowledgeable, professional and reassuring. Getting an appointment to be seen isn't a hassle and are readily available. Follow up care and referral to relevant services are efficiently executed. I would definitely recommend attending this medical centre for your GP needs."
Renita L.
"I've been with Jervis Medical Centre since 2009. It is indeed a great clinic with a very accomodating and polite staff. Dr. Hakhamanesh Nikookam is exceptionally thorough and professional. He certainly makes everything easy for me. He's truly helpful. Highly recommended."
Ryan N.
"Great place, go and see for yourself! This is not a Spa or a Restaurant. You get in, get the support you need, get out. Doctors are patient, competent and always nice! Going there since 2007 (vaccines, GP services, etc...) - never a bad experience."
Claudine R.
"Highly recommended. I've been attending this medical centre for over ten years and would not attend anywhere else. Reception and Medical staff are friendly/approachable and extremely thorough. 5 stars well deserved!"
S. Flood
To make an appointment, contact us today on