About Jervis Medical Centre
Quality GP Dublin Services
Jervis Medical centre was established in 2001. We are located at the heart of Dublin city centre, 3 to 5 minutes walk from the main shopping areas such as Jervis Shopping Centre, Ilac Shopping Centre, Henry Street and O'Connell Street. We are also within walking distance from the Luas Line that stops at Jervis and Abbey Street with close vicinity to many multistory car parks.
To make an appointment, contact us today on (01) 873 59 59.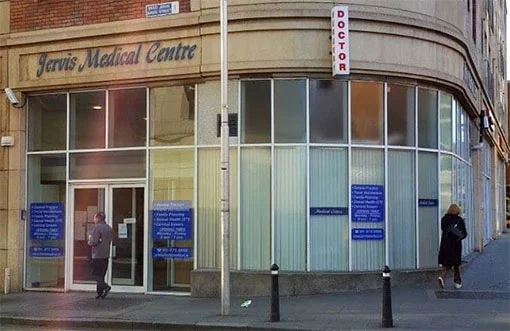 Jervis Medical Centre
1 Jervis St, North City, Dublin 1.
Corner of Jervis Street & Parnell Street (Opposite Cineworld Cinema).
Call us at (01) 873 59 59
Opening Hours
Monday – Friday:  8.00am – 6pm
Saturday – Sunday:    Closed
Holidays:    Closed
"I have been going here for a few month's and Dr Nikookam is amazing no other doctor has gone above and beyond for me like him! I would highly recommend him!"
Laura C. – July 2019
Our clinic is run by 3 experienced doctors who are on the specialist registration in General Practice and provide a variety of medical services including:
Hear what our patients are saying...
"Handy place if you need a GP and you're in the city centre. I had a nasty burn and I was able to call in here and get seen on a work day evening. I rang at lunch time and made an appointment. Doctor was very nice and thorough. I could really trust her. Would definitely go here again."
Eoghan F.
"Been going there years and find the service there excellent. Doctors are thorough and professional. Would highly recommend."
Caitríona N.
"I have attended Jervis Medical Centre for over 15 yrs. I have found Dr. Haka and his team's approach to patient care to be courteous, quite knowledgeable, professional and reassuring. Getting an appointment to be seen isn't a hassle and are readily available. Follow up care and referral to relevant services are efficiently executed. I would definitely recommend attending this medical centre for your GP needs."
Renita L.
"I've been with Jervis Medical Centre since 2009. It is indeed a great clinic with a very accomodating and polite staff. Dr. Hakhamanesh Nikookam is exceptionally thorough and professional. He certainly makes everything easy for me. He's truly helpful. Highly recommended."
Ryan N.
"Great place, go and see for yourself! This is not a Spa or a Restaurant. You get in, get the support you need, get out. Doctors are patient, competent and always nice! Going there since 2007 (vaccines, GP services, etc...) - never a bad experience."
Claudine R.
"Highly recommended. I've been attending this medical centre for over ten years and would not attend anywhere else. Reception and Medical staff are friendly/approachable and extremely thorough. 5 stars well deserved!"
S. Flood
To make an appointment, contact us today on