Wart Freezing / Histofreeze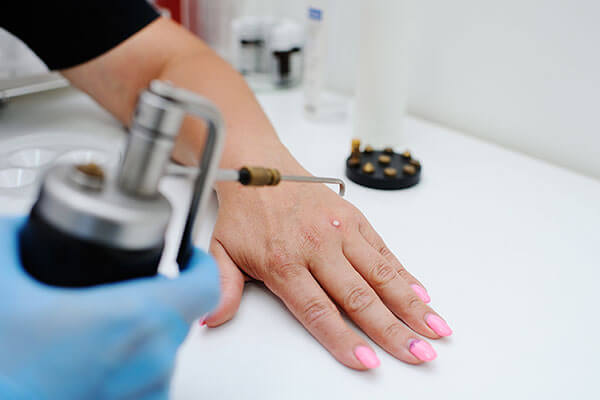 The procedure lasts only a matter of seconds, however, duration time can vary depending on the thickness and size of the lesion being treated. The skin area being treated will become white after the liquid is applied and takes a minute or two to return to normal skin temperature. Depending on the nature of the lesion, more than one treatment session may be necessary.
Our doctors will suggest the best method to care for the treated area in the days following the treatment until the area fully heals.
For more information or to book an appointment, contact us today on (01) 873 59 59.
Other Services You Might be Interested In
Hear what our patients are saying...
"Handy place if you need a GP and you're in the city centre. I had a nasty burn and I was able to call in here and get seen on a work day evening. I rang at lunch time and made an appointment. Doctor was very nice and thorough. I could really trust her. Would definitely go here again."
Eoghan F.
"Been going there years and find the service there excellent. Doctors are thorough and professional. Would highly recommend."
Caitríona N.
"I have attended Jervis Medical Centre for over 15 yrs. I have found Dr. Haka and his team's approach to patient care to be courteous, quite knowledgeable, professional and reassuring. Getting an appointment to be seen isn't a hassle and are readily available. Follow up care and referral to relevant services are efficiently executed. I would definitely recommend attending this medical centre for your GP needs."
Renita L.
"I've been with Jervis Medical Centre since 2009. It is indeed a great clinic with a very accomodating and polite staff. Dr. Hakhamanesh Nikookam is exceptionally thorough and professional. He certainly makes everything easy for me. He's truly helpful. Highly recommended."
Ryan N.
"Great place, go and see for yourself! This is not a Spa or a Restaurant. You get in, get the support you need, get out. Doctors are patient, competent and always nice! Going there since 2007 (vaccines, GP services, etc...) - never a bad experience."
Claudine R.
"Highly recommended. I've been attending this medical centre for over ten years and would not attend anywhere else. Reception and Medical staff are friendly/approachable and extremely thorough. 5 stars well deserved!"
S. Flood
To make an appointment, contact us today on